* Colors of the images might appear differently from the actual color depending on your monitor.
A seat bottom cushion with high quality ultra-thin heater built-in.
Extremely easy to install. Just by plugging in to the cigarette lighter socket, it warms up immediately.
Also, Suede-like fabric is used for good touch and comfort.

Safe to use with temperature control feature
When it reaches the predefined temperature, it automatically reduce the electric current to keep the temperature from exceeding it.
Also, when it goes below the predefined temperature, it automatically resumes the electric current until it reaches the predefined temperature.
Luxurious suede-like fabric is used
Its suede-like fabric looks luxurious yet natural and is soft and non-slippery to support comfortable driving.
Easy to plug, cigarette lighter socket type power
| | | |
| --- | --- | --- |
| | | |
| Insert the sliding-stopper to the gap between the seat bottom and the back rest to prevent it from moving. | Plug the power in to the cigarette lighter socket and turn the switch on. It warms up in one to two minutes. | |
Cleaning the cushion
Brush lightly with a lint brush to remove adhered fluff or dust.
If the entire seat cover is stained, wipe the surface with a cloth soaked in warm water of about 40°C and wrung tightly. Brush the surface neatly with a lint brush after the surface dries. This care is effective if performed at a frequency of about once a month.
* NB: Do not use a washing machine, spin dryer or dryer. Dry them in the shade if they become damp due to sweat or other reasons .
Specifications
cushion
size: 440mm×440mm
* It does not include fixing stoppers.
Surface material: 100% Polyester
Built-in heater
Type: Polyester film PTC seat heater
Size: 155mm x 170mm Cable length: 3m
Temperature setting: 50°C +/− 5°C
Power
Type: 12-Volt Cigarette lighter socket only
Maximum allowable current: 2A
Maximun electricity consumption: 26W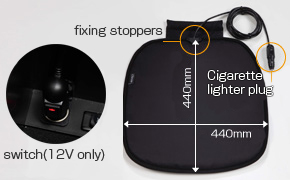 Attention
(1) Do not continue to use the seat heater in an unusual condition, such as producing smokes or bad smells.
(2) Do not soak in water
(3) Do not dismantle or modify
(4) Do not bend
* If you use the product under conditions listed in (1) to (4), it could cause fire or electric shock. Turn off immediately and make sure to plug off the power from the cigarette lighter socket and contact the retailer or Eleven International.
(5) Do not use 3 or more seat heater cushions at the same time.